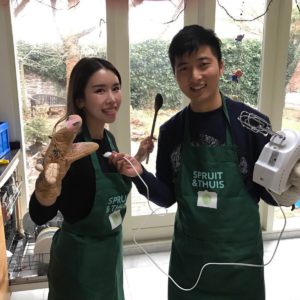 Dinners & workshops with a local touch
Dinners, take away and catering
Treat yourself to a local eating-experience. Spruit & Thuis prepares dinners with local products and a personal touch. Join Judith Spruit every monday in her cosy kitchen for a home made meal to take away. Share your dinner with local people in one of the 'Aanschuiftafels'. Invite Judith as your personal cook to prepare a tasty meal for you at home. Or join Judith in the kitchen for a workshop local baking and cooking.
Workshop Dutch baking and cooking
Find out how to make fresh Dutch food with local ingredients. Meet other expats, learn a little Dutch and find out about the best addresses for food around. Data: Friday June 16th 9.30-13.00 and Sunday June 18th 13.30-17.00. Costs: 45 euro including refreshments.
Events and 'Aanschuiftafels'
Spruit & Thuis organises special experiences for internationals. In April 2017 I organised in cooperation with Elsa Wattimurij owner of Expats & Co three well-acclaimed tours by bike to the fabulous tulip fields. Meet locals from Haarlem, Overveen and Heemstede sharing your dinner on the 'Aanschuiftafel'. The next one will be on Friday July 14th 18.00-20.00 in cooperation with Christa Ubbens.
Who
Judith Spruit is the cook of Spruit & Thuis. After a career as a journalist she followed her old passion for good food. She was professionally trained by the Culinair Centrum Beverwijk. In 2015 she started Spruit & Thuis. Judith loves local ingredients that inspire her to make original meals with influences from all over the world.
Where
Spruit & Thuis is situated at Zijlweg 3 2051 BA Overveen. In a historical house in the oldest part of the picturesque village of Overveen, near Haarlem, the sea and the dunes.
More information:
www.spruitenthuis.nl
judith@spruitenthuis.nl
+31640209095
www.facebook.com/SpruitenThuis/